Department of Civil and Environmental Engineering (CEE)
Civil Engineering is considered the second-oldest engineering discipline after military engineering. It is a professional engineering discipline that deals with the design, construction, and maintenance of the physical and naturally built environment including public works such as roads, bridges, canals, dams, airports, sewerage systems, pipelines, structural components of buildings, and railways. Civil engineering is traditionally broken into several sub-disciplines such as Construction Engineering, Earthquake engineering, Environmental engineering, Geotechnical engineering, Transportation engineering, Water resources engineering, Structural engineering, etc.

DOWNLOAD BROCHURE
Submit Details to Download
Vision
To be known as global leaders in the area of Civil & Environmental Engineering through innovations, academic excellence and socially relevant research outcomes and to become a preferred destination for all the stakeholders.
Mission
Focus on quality of learning and innovation to develop competent civil engineers with professional, ethical and analytical skills.
Develop global linkages and industry connects at multiple levels for knowledge dissemination and strengthening the graduate outcomes.
Promote multidisciplinary research and develop technology support for industry and Government institutions.
Focus on sustainable development and socially relevant projects for the betterment of human society, environment and nation.
Build a connect and outreach capability with appropriate skills and strength to enhance the intake quality and quantity

latest industry aligned curriculum

well qualified faculty

well-equipped labs

excellent student placements

Teaching pedagogy in line with indstry needs

The North cap university testing centre

Alliances & inferface with academia & industry

Regular student counselling & guidance

Higher Education Opportunities In premier universities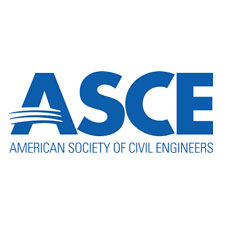 ASCE- American Society of Civil Engineers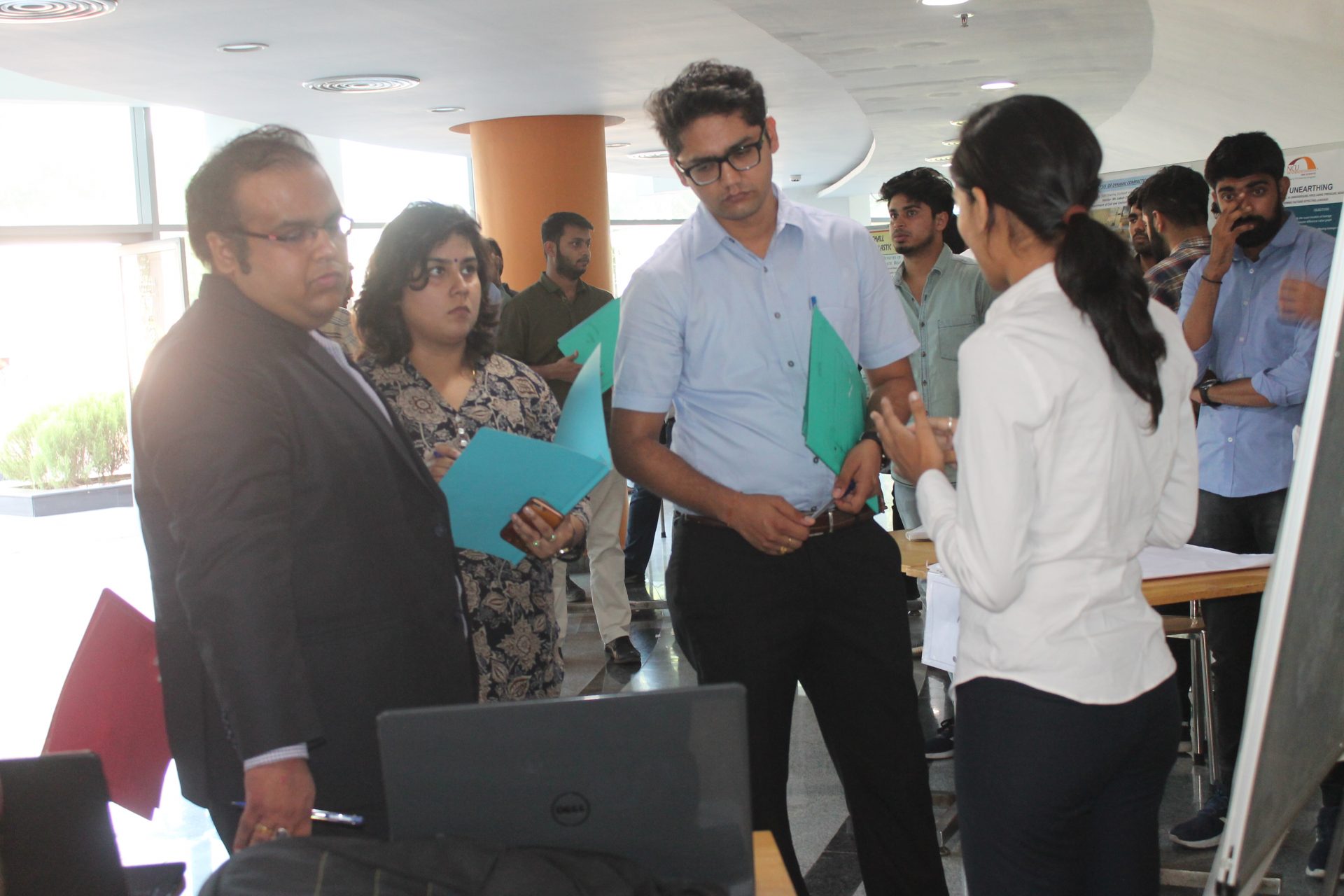 Department Industry Interaction Cell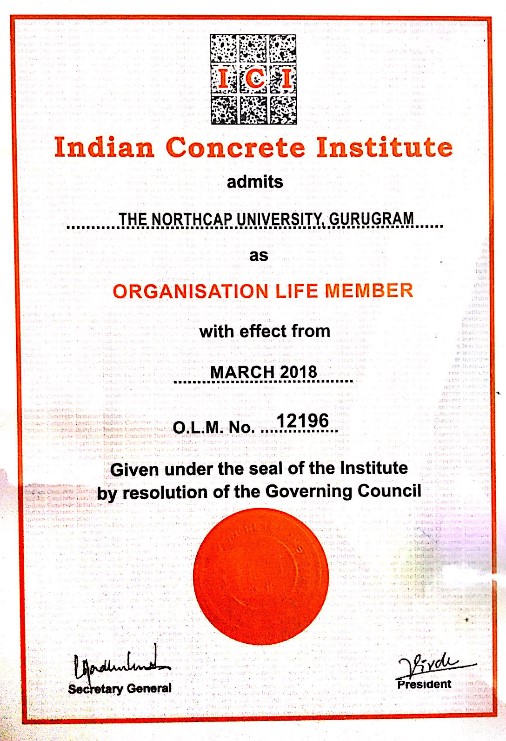 ICI- Indian Concrete Institute (Organisational Membership)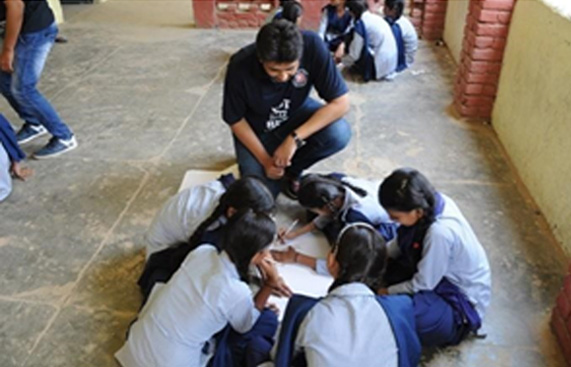 Indian Road Safety Campaign (IRSC), Student Chapter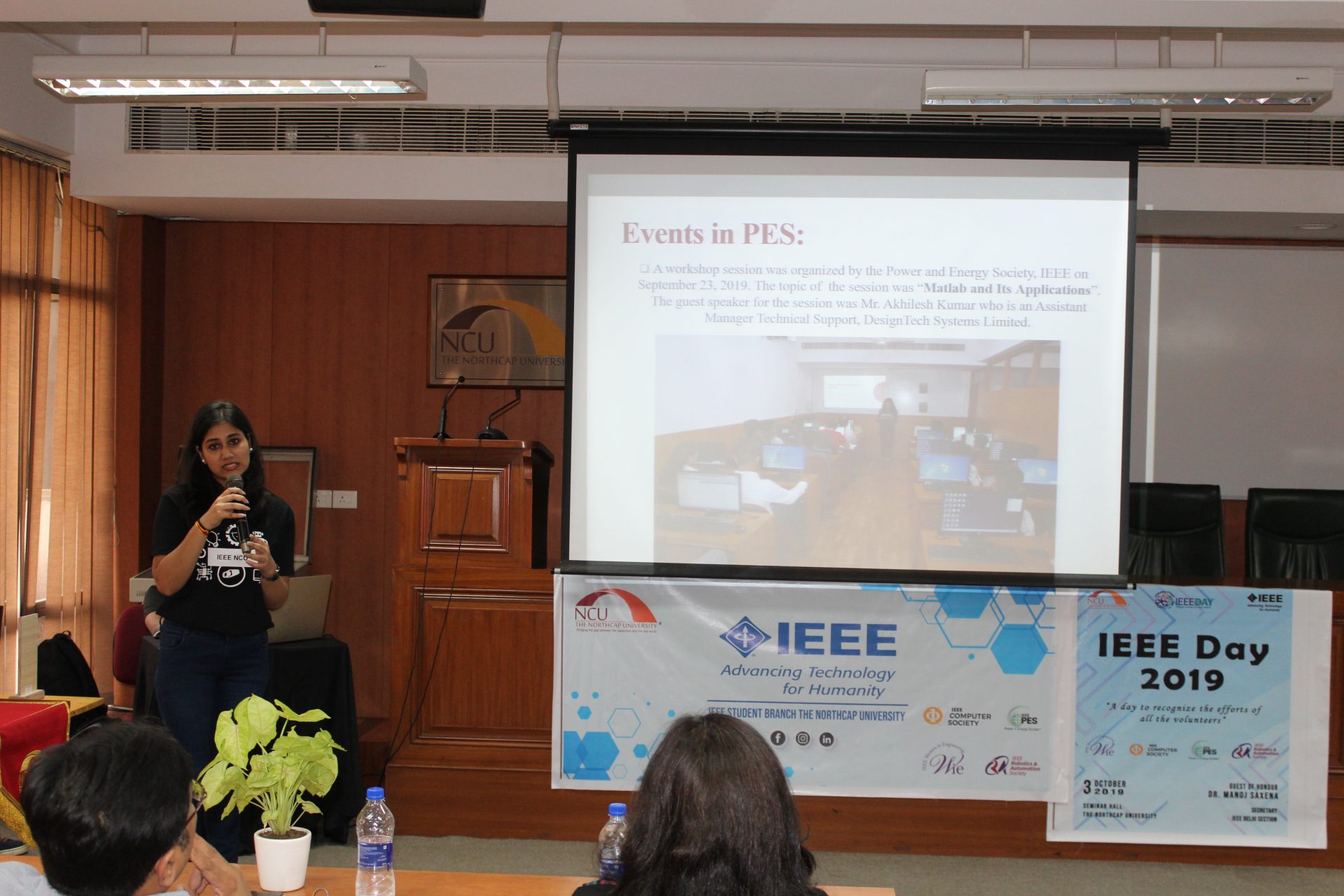 Institute of Electrical and Electronics Engineers (IEEE)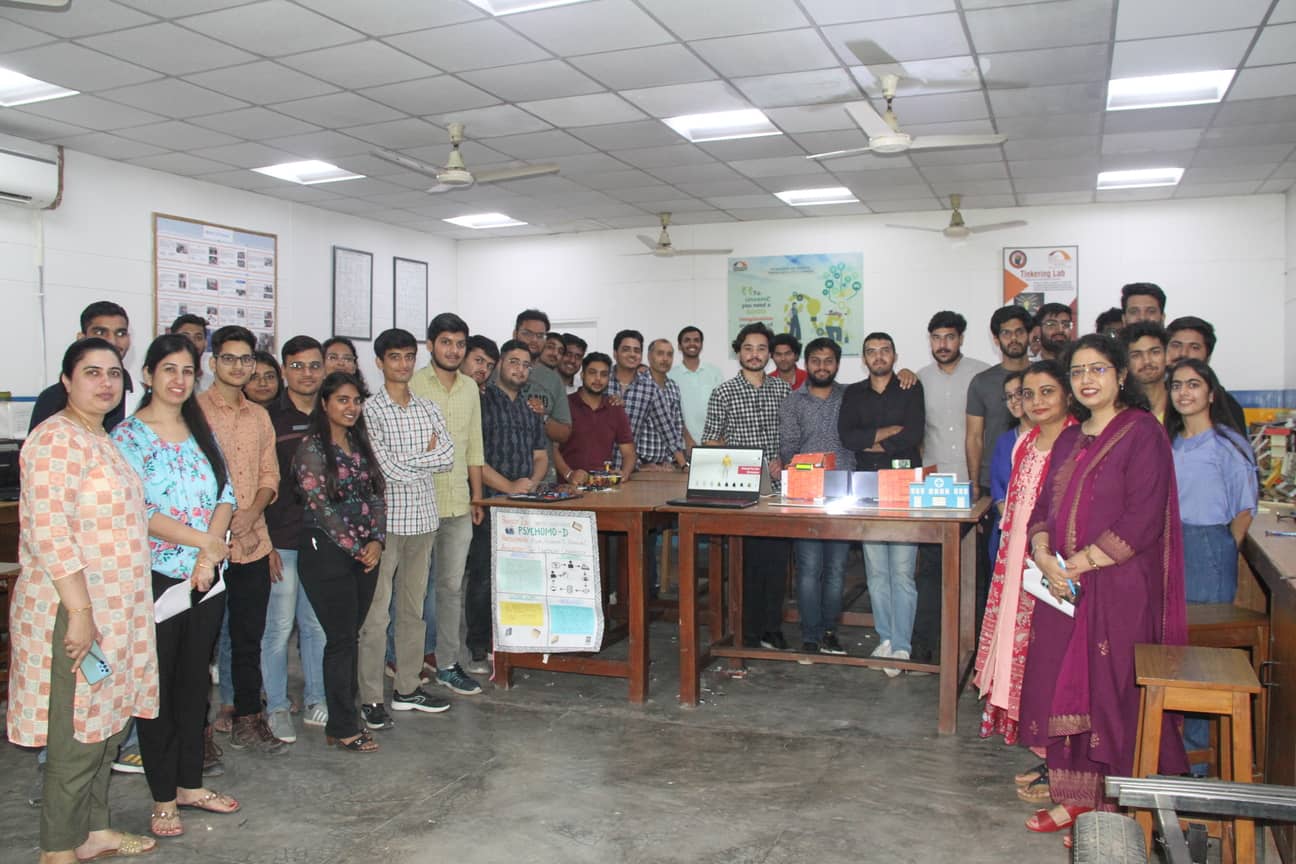 The Institution of Engineers (India) [IEI]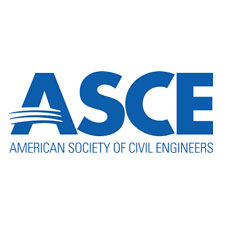 ASCE- American Society of Civil Engineers
ASCE brings in practicing engineers to inform students about the civil engineering field. Social events are also held so that students can get to know each other outside of class. There are also opportunities for students to participate in national student competitions.

Objective of "ASCE": The objective of the ASCE student chapter is to increase participation and interest in the civil engineering discipline through involvement with practicing engineers, the national organization, and community service.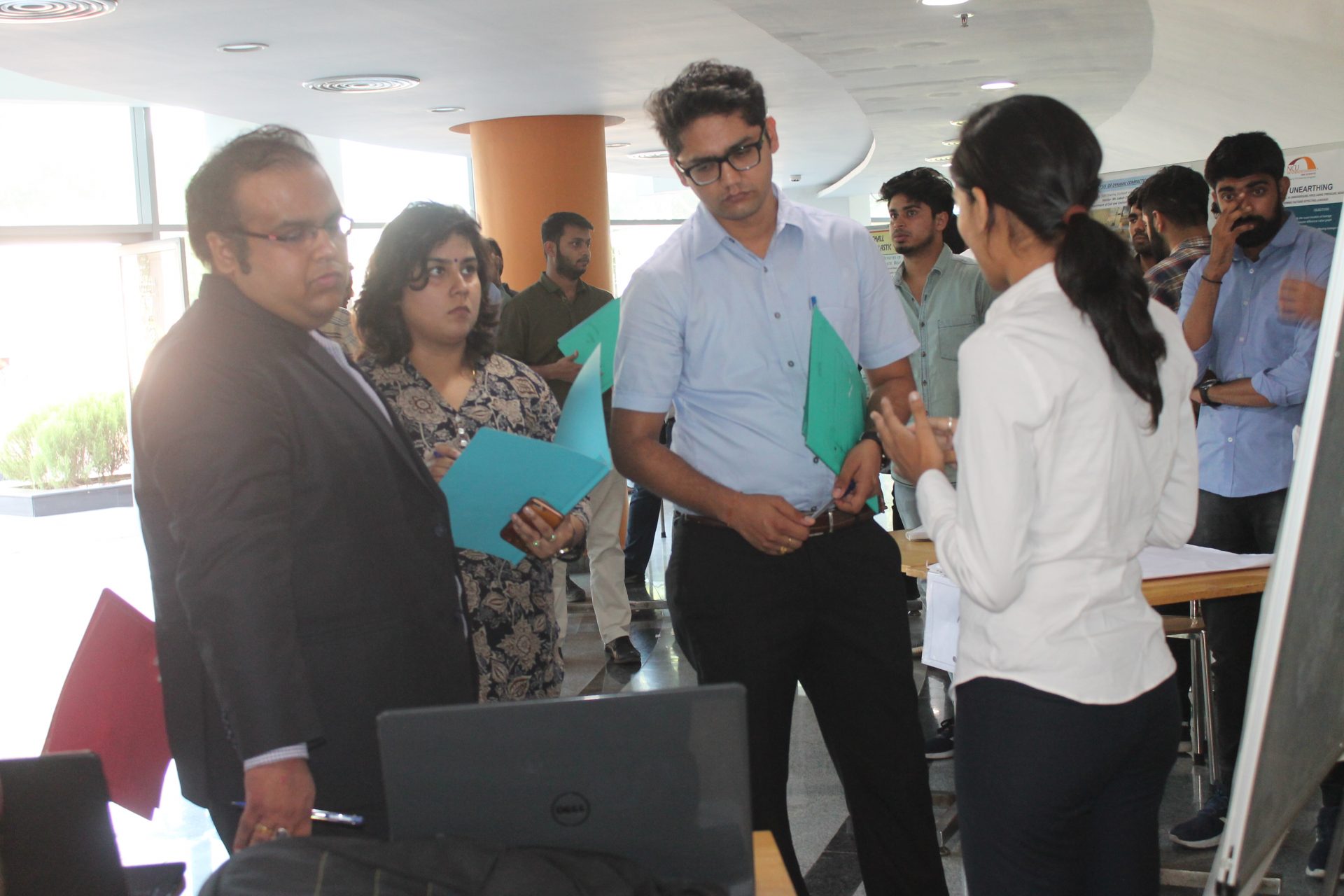 Department Industry Interaction Cell
The DIIC is being proposed to facilitate an interaction between the department of Civil & Environmental Engineering, The NorthCap University and the Industry which is the need of the hour. This will have great bearing on the Engineering Curriculum, exposure of industrial atmosphere to engineering students and subsequent placement of young graduating engineers in industries across the country. With the advent of globalization and opening up of Indian economy to outside world, competition among industries has become stiff. Similarly, there is an urgent need to prepare engineering students for jobs in multinational companies and increase their employability by exposing them to latest technologies and engineering methodologies.

These objectives can only be achieved well by bridging the gap between industry and the academic institute. However, to bridge a gap between the theoretical and practical aspects of the curriculum, Corporate Interaction is extremely important. The Department Industry Interaction Cell recognizes this need and addresses it through the regular associations and meeting with Corporate and provides industry exposure to the students and enables them to pick up skills besides what is being imparted in the classrooms.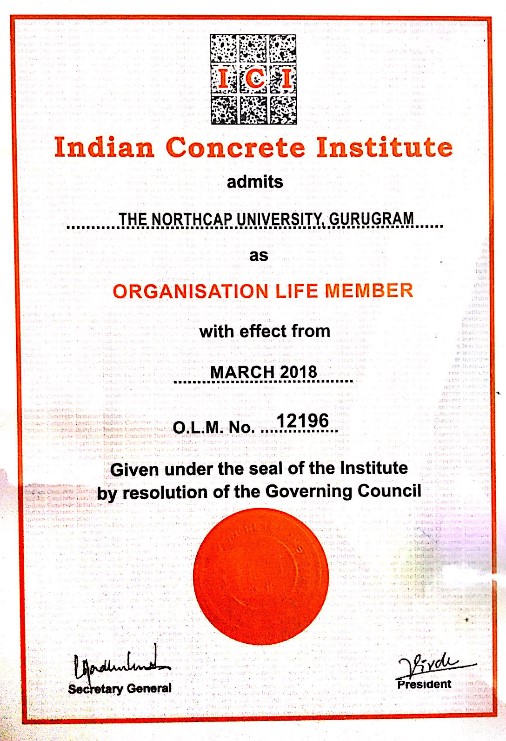 ICI- Indian Concrete Institute (Organisational Membership)
The Civil & Environmental Engineering Department, The NorthCap University, Gurugram is a lifetime organizational member of Indian Concrete Institute, Chennai.

Indian Concrete Institute is one of the leading professional bodies in India, catering to the professional needs of individuals and organizations involved in Concrete. Being a non-profit Organization, it is dedicated to the cause of Disseminating Knowledge on Concrete to Promote Concrete Technology and Construction and to address the Research Needs of Concrete.

The NorthCap University has now become a lifetime organizational member of Indian Concrete Institute, Chennai and has been attached with ICI Delhi Centre (DELC). The University would now get updated on the latest technology & practices in Concrete Industry. The members will have a unique opportunity to listen to and to interact with experts from within the country and abroad. This will let us collaborate with national and international agencies in creating better understanding of concrete construction technology. ICI promotes growth of concrete construction and its sub-specializations giving opportunity to participate in ICI conducted competitions like ICI FEST, which is a zonal meet of Students Chapters. Apart from these, there are various other benefits such as access to ICI Archives which is a collection of valuable Technical Papers, access to ICI reference library and most importantly, an opportunity to grow professionally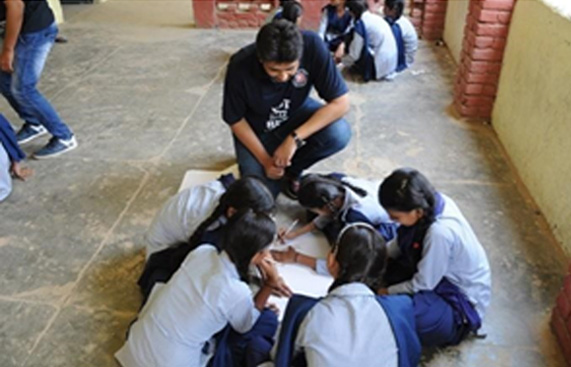 Indian Road Safety Campaign (IRSC), Student Chapter
Indian Road Safety Campaign, a voluntary organization running under the umbrella of Transport Research and Injury Prevention Program, IIT Delhi, refers to improve the road safety rules and also make the stakeholders – who are the reason for road accident deaths, aware about safety rules.
IRSC started as a project under National Service Scheme, IIT Delhi and currently have grown to be a youth lead organization with help Transport Research and Injury Prevention Program operating in various national engineering colleges like IIT Roorkee, IIT Kharagpur, BITS Pilani, DTU, SRCC etc on our board. IRSC has also been associated with schools and various NGOs like Arrive Safe, Safe Road Foundation etc. There are various methodologies like awareness, internships, workshops and competitions through which IRSC has been able to sensitize and impact 5,00,000+ people and work presently in 35+ cities and 7+ states.
IRSC helps in developing Business-Model of the projects and helps in Indian Road Safety Campaign overall development and expansion, in formation of proposals and projects.
Latest Events:


Inaugural ceremony


Poster Making Competition


Awareness session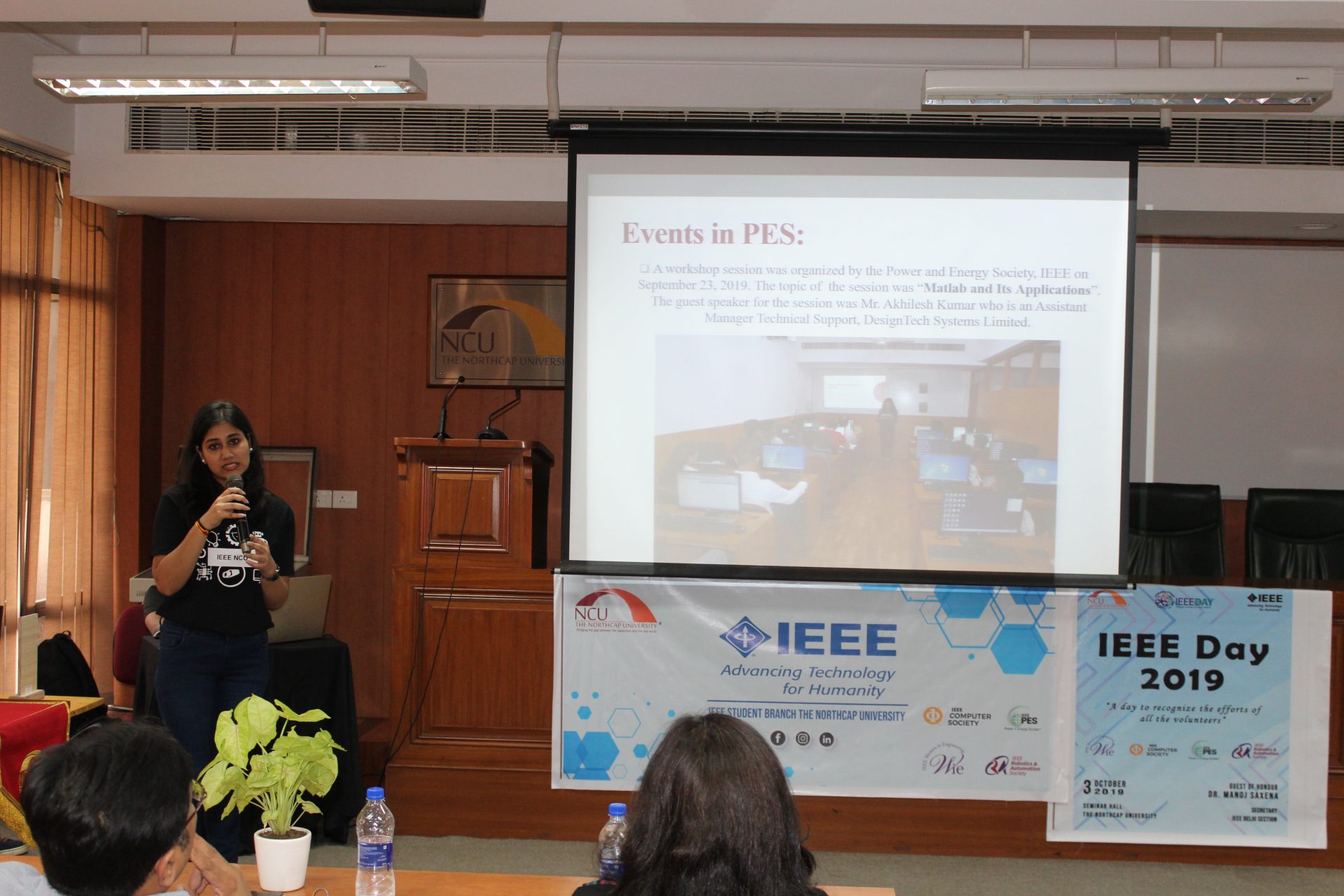 Institute of Electrical and Electronics Engineers (IEEE)
Currently one of the most active student branches in the Delhi Section, IEEE NCU SB started from square one. The community comprises like-minded volunteers and fosters the ideology of creating an impact
with every activity, no matter how small or big. With an abundance of outstanding talent from different walks of the industry, NCU SB focuses on providing opportunities to those who wish to make a mark in
their fields.

IEEE NCU SB works to embolden and empower people with immense exposure while helping them strengthen their strong suits and work on their shortcomings. It aims to impart technical and soft skills to
the volunteers by connecting them to leading industry experts and students from across the world, as well as managerial and social skills by engaging them in event management.

Chapters

1. IEEE Robotics and Automation Society
IEEE NCU RAS SB Chapter aims to develop a community that supports the development and the exchange of scientific knowledge in the fields of robotics and automation. Due to a smaller number of students
being engaged in the said fields, RAS continually makes efforts to raise awareness about the abundance of opportunities available by conducting various sessions. The community also highlights how the fields
of Robotics and Automation play an indispensable role in our daily lives.

2. IEEE Women in Engineering
IEEE NCU WIE SB Chapter completed its inception on 19 January 2019 and has since been instrumental in encouraging young women to come forth and actively extend their contribution to the technical community. WIE focuses on helping women by giving them a platform to present and work on their ideas. The community believes in empowering women to develop their skills and make their mark in the fields of their choice.

3. IEEE Computer Society
After completing its formation on 9 September 2018, IEEE NCU CS SB Chapter established itself as a community of people with a strong fascination towards Computer Science and Information Technology, along with its allied fields. The inception of the chapter helped to expand technical culture in university by cognising students about the latest technological advancements by conducting numerous events. It acts as a bridge between theoretical learnings, their practical implementation and significance in the real world.

4. IEEE Power and Energy Society
IEEE NCU PES SB Chapter aims to cognise students with the latest trends and developments in the Power and Energy Sector. The guiding idea of the community is to organise engaging, innovative and interesting sessions to equip the students with necessary skills and instil a sense of responsibility towards using our resources judiciously. PES is at the forefront of conducting humanitarian activities, with its primary motive is to contribute to the development and betterment of society.

5. IEEE Industry Applications Society
Instituted on 2 March 2020, IEEE NCU IAS SB promotes generation and application of the practices and groundwork of the Industry. This community acts as a liaison between the theory and practice and
encourages project-based learning with cutting edge technologies. IAS aims to embolden its members with the best of the IEEE and Industry Network.

6. IEEE Technology and Engineering Management Society
Inaugurated on 12 September 2020, IEEE NCU TEMS SBC initiated itself as a coterie of people with a collective vision to advance, enhance, and improve essential management and leadership knowledge and
skills of IEEE members. It fosters active knowledge transfer between the academic and practicing communities, whilst supporting the leadership path of its members. The Field of Interest of the TEMS encompasses the management sciences and practices required for defining, implementing, and managing engineering and technology.

Initiatives/Special Interest Group (SIG)

1. IEEE HAC
Community service enables students to attain life skills and knowledge, as well as provide amenity to those who need it most, therefore volunteering for the betterment of society should become a necessity
now. IEEE Humanitarian Activities Committee (HAC) provides a suite of resources that inspire and enable IEEE volunteers in NCU to carry out and support impactful humanitarian technology and sustainable development activities at the local level.

2. Code Arts
Code Arts aims to equip each of its members with outstanding coding skills, starting right from the basics. From writing rudimentary programs to developing advanced websites and applications, the initiatives of
this SIG will help make this transition smooth for any aspiring coder. Code Arts looks forward to creating a community of not only proficient coders, but also of individuals skilled in domains like Data Mining, Pattern Recognition, Machine Learning, and Image Processing & Business Analytics, etc.

3. Super IEEE Program
SIP is an initiative to accelerate the off-campus participation of university students. The goal is to utilize the opportunities offered by the best organizations in the best way possible. The program aims to bring
awareness about the exquisite developer communities, scholarship programs and internship projects which are globally recognised and are often highly competitive. A key component of the initiative is enhancing networking and developing exemplary communication skills and instilling essential qualities like responsibility, punctuality, and professionalism in our students. The program offers to provide hands-on training for interviews, writing of applications and simplifying the stressful process under constant supervision.

4. Python Warriors
The Python Warrior's Club is a new initiative under IEEE IAS NCU Student Branch Chapter which aims to develop a community that is all about Python. Its main focus is to improve coding skills and aims to guide students with new projects on Python.

5. Z3nith
Z3ninth is a Student Interest Group/Club under IEEE IAS NCU SBC, a group of motivated individuals in E-Sports and Game Development. The mission of this club is to cultivate a culture of E-sports in the University, along with a good percentage of serious games.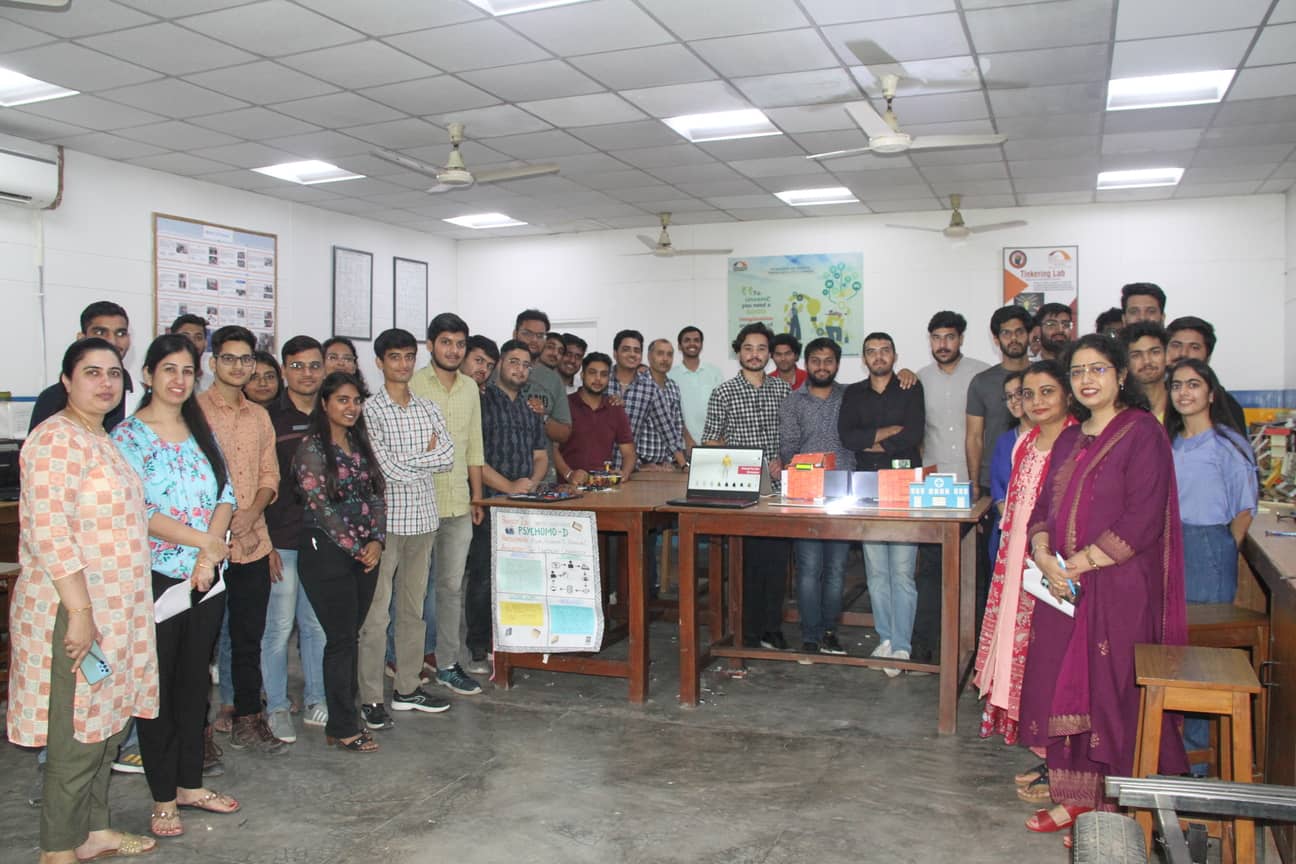 The Institution of Engineers (India) [IEI]
The
Institution of Engineers (India) [IEI]
is a statutory body to promote and advance the engineering and technology, established in 1920 and incorporated by Royal Charter in 1935. The Institution has been serving the engineering fraternity for over a Century with its national and international presence through 125 Centres spread all over India, 6 Overseas Chapters, 7 Fora and an Organ namely Engineering Staff College of India (ESCI), Hyderabad. The Institution encompasses 15 (fifteen) engineering disciplines with a Corporate membership of over 2 lakhs. IEI has been recognized as Scientific and Industrial Research Organization (SIRO) by the Ministry of Science & Technology, Govt. of India and besides conducting its own research, provides Grant-in-Aid to UG/PG/ PhD students of Engineering Institutes & Universities.
The State / Local Centres of IEI spread across the country do organise technical activities and provide platform to the stakeholders, technocrats, policy makers and others to share their expertise to benefit the engineering fraternity. IEI, in collaboration with Springer Nature Pvt. Ltd., regularly publishes peer-reviewed international journals in five Series, covering fifteen engineering disciplines. The NorthCap University runs a Students' chapter of IEI under the mentorship of faculty advisor- Dr. Vandana Khanna. It is a very active professional society chapter that conducts various technical events like webinars, project competitions, quizzes, workshops, certification programs etc. The chapter also organizes non-technical events like Yoga sessions, fests etc. for the holistic development of the students.
Recent Events:


Visit to Indian Mobile congress (IMC) 2022, Pragati Maidan, New Delhi on 3rd October 2022.


Workshop on 'VLSI DESIGN FLOW ON CADENCE EDA' (6th and 7th Oct 2022).


Tinkering Lab 4th Project Competition cum Exhibition (12th October 2022).


Expert lecture on 'VLSI Frontend- Industry Trends'(7th Nov 2022).


Alumni Talk on the topic 'Career opportunities in VLSI industries for a fresher'(19th Nov 2022).


Announcement
Admission Enquiry
Enquiry Cum Registration Form