Sustainable Waste Management
The campus sustainability team leads efforts at The NorthCap University to transform our campus into thriving sustainable environment that enhance education, research and operations. The campus sustainability team brings together staff who specialise in environmental planning, engineering, reporting, compliance and behaviour changes. We focus on improving the built environment in combination with extensive behavior change programs, to inspire the community to study and work in a more sustainable manner.
Water conservation and management
Sewage treatment and recycling
Solid Waste management
Water conservation and management
Since 2006, while the campus has grown we have reduced our water consumption. We are continuously working to identify and implement opportunities throughout the campus, from innovative technologies to behaviour change strategies. The goal is to prevent wastage of water as well as to recycle and reuse the wastewater in the University. A sustainable water management plan will be adopted based on the local water table and geohydrological characteristics of the aquifer. Critical components of the plan will include: reduction of potable water usage by efficient monitoring, using efficient fixtures, and restricting usage for irrigation. Some of the strategies in place include:
Rain water harvesting to capture rainwater for landscape irrigation
Rain sensors installed on the irrigation systems across campus
Drip irrigation systems in all planting beds
Self-charging, hands-free sink faucets
Dual flush and sensor based toilets
Elimination of dining hall trays
Water metering system has been installed in each building to analyze the usage of water from each building.
8 different parameters of water are tested on monthly basis to check the quality of water.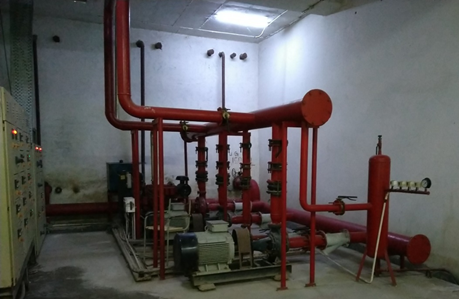 | | | | | | | |
| --- | --- | --- | --- | --- | --- | --- |
| Parameters | Acceptable Range | Permissible Range | New Building RO | Old Building RO | Research Area RO | Tap Water |
| TDS  (mg/L) | <500 | 2000 | 84.1 | 206.1 | 604 | 609 |
| CONDUCTIVITY (µS/cm) | 0-800 | >2500 | 86.3 | 205.4 | 605 | 609 |
| pH | 6.5-8.5 | No relaxation | 6.98 | 7.11 | 7.16 | 7.22 |
| HARDNESS (mg/L) | <300 | 600 | 100 | 150 | 180 | 190 |
| CHLORIDE (mg/L) | <250 | 1000 | 0.992 | 7.44 | 24.8 | 47.12 |
| FLUORIDE (mg/L) | <1 | 1.5 | 0.25 | 0.57 | 1.22 | 1.96 |
| D.O. (mg/L) | >5 | 18 | 6.3 | 7.3 | 6.8 | 6.8 |
| ALKALINITY (mg/L) | <200 | 600 | 35 | 135 | 235 | 250 |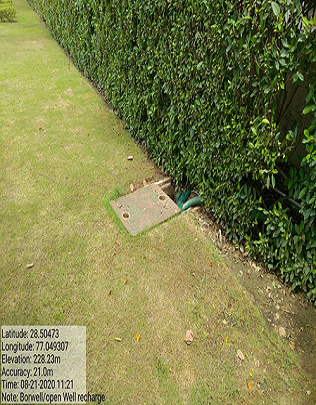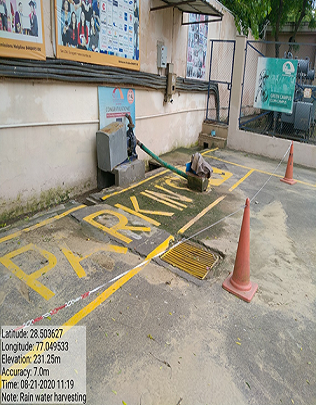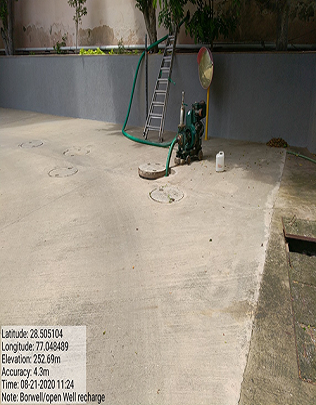 Sewage treatment and recycling
Sewage generated in campus is a type of wastewater that requires attention since the volume is raising yearly with the increment of students intakes. Campus sewage has BOD and COD not higher than ~600 mg/L and ~700 mg/L, respectively. The presence of heavy metals such as barium (Ba), iron (Fe), copper (Cu), Strontium (Sr), cadmium (Cd) and lead (Pb) have been identified in campus sewage. Other than that, the occurrence of organic contaminants such as phenols is also detected in campus sewage which has the tendency to be transformed into micro pollutants. Various techniques have been tested and used to treat campus sewage which can be grouped into physical, chemical, biological, and combination treatment systems.
NCU has implemented a Sewage Treatment Plant (STP) for water recycling. The recycled water is getting used for flushing and horticultural purposes.
Biological treatment including Bioaugmentation and phytotreatment are preferred over other physical and chemical methods.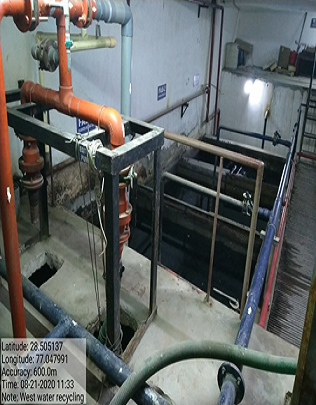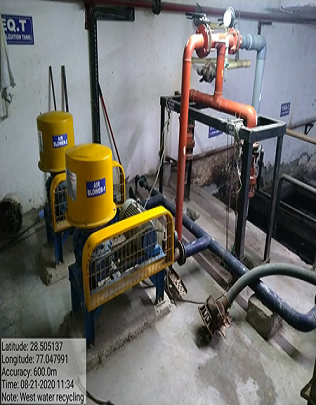 Solid Waste management
India's waste management crisis has serious implications for its environment, economy and public health. We focus on creating technologies and solutions that minimize waste generation and convert all waste into useful products. This includes initiatives to promote a circular economy through resource efficient and cleaner production and maximize resource recovery and recycling.
We started off with a behind-the-scenes kitchen waste composting program, which included scraps from food preparation and also food waste left on plates from the dining hall. Earlier this year, we expanded our composting program by switching from disposable plastic to 100 percent plant based compostable tableware for all catering. Last year we sent over 20 tons of organic material to be composted.
Segregation of the wastes at source into recyclable, non‐degradable and degradable components.
Composting is controlled process of decomposition used to transform organic material such as kitchen scrap into humus,
Kitchen waste is taken care by Vermicomposting (composting with earthworms)
Biomethanation unit may be established at a suitable place in the campus for generation of biogas from market wastes.
Dry leaves wastes are used to prepare manure.
Double-sided reports are encouraged. Also, whenever applicable e-reports should be submitted instead of hard copies.
Three types of bins have been installed on campus.
Food waste,
Recyclable plastic, paper and glass
Non-recyclable, Single use plastic, Plastic coated paper cup and plates
Avoid 'use and throw' carry bags. Always use bags made of eco-friendly materials.
Always use cloth banners instead of flex.
Always use eco-friendly materials like leaves flowers etc. for decoration and while making bouquets for felicitating guests.
No hazardous waste is produced in the campus. A 100 KLD sewage treatment plant has been installed in the campus to ensure zero discharge to municipal sewer line.
There are 3 storage tanks of 50,000 litres capacity. The treated water is used for irrigation requirements of horticulture.
RO excess water is also stored in tanks for re-use.
Solid Waste management
Garbage – The University garbage is handed over responsibly to the Municipal Corporation of Gurgaon (MCG) for the proper disposal of the same.
Garden waste – Dry leaves from garden is used to make manure at the backside of cricket lawn.
Kitchen waste – NCU cafeteria generates 90 kg/d of kitchen waste. It is proposed to use "Vermicomposting" to recycle this waste into manure.
E – Waste: E – waste is segregated and reused where relevant or else the e-waste is recycled to external vendors. The University also has association with Attero Recycling Pvt. Ltd, India's largest E-waste management company for proper disposal of e-waste materials.